Post Competition - Let me Nutella You About It
Hi Ondrej
Ok so just updating you on life/confession time. My friend left last weekend. Definitely have the wine country escapade out of my system. During her visit I also encountered processed cheese-oh my goodness. My stomach had serious food baby status for like 3 days after. Clearly cheese and I aren't friends- never mind poor quality cheese AKA plastic? I'm fairly sure I also consumed several hundred calories of Nutella. Not like taking down an entire jar or anything, but things got a little frenzied for a moment. I thought I hated it...who knew? Nutella is life. That being said I've been steady at the gym. 6 days a week steady...
As for my veins being filled with Nutella and wine...you know me. Once my heads in the game it's all in. So once I have all my components together for the next step. It's game on 100%.
I endlessly told my coach Ondrej how much I hated Nutella when it was recommended as my rice cake topping on competition day.
How naive.
Prior to competing I did a lot of reading about post competition. The post competition blues was a subject that came up often. The overall synopsis is you finish competition. You've been so strict for 12 weeks. You go uncontrollably off the rails when its done. Then you ultimately end up in worse shape than before you even started your 12 week prep. Then you spiral and feel depressed.
That doesn't sound fun.
Luckily, I have tremendous support from My Trainer 365. There was no way I was falling into that trap. Ondrej and I had been discussing the reverse diet during the weeks leading into the competition. You get two cheat days. Then you get on track with a clean diet. The whole point of this whole process for me is not just to get fit for the summer. Not just to get lean for competition. Its to embrace health and fitness 365 days a year.
This includes health of the mind as well. So after competition it worked out seamlessly as I had a friend I've known since high school coming out to visit beautiful BC.
Our main event was a road trip to BC wine country with a stay in Kelowna and then near Vernon for a spacation.
The first stop was in Kelowna where we stayed at Hotel Zed. This is actually the same hotel I stayed at for the Kelowna Classic. We stayed in their suite, which was super spacious. The decor is oh so fun. Literally if you just want to embrace the fun side of life I highly recommend a stay here. The price is very affordable. They live by the slogan 'rebels agains the ordinary'. It's clean, it's bright and happy. PLUS...they have a disco room. Essentially designed for one or two people...costumes and all. You can also wear free roller skates in there. We took advantage of this and no doubt our laughs were echoing down the hallways.
We went out for a traditional BC visitor classic dining spot-Cactus Club. I ate pretty light with a veggie and rice dish. We did partake in several drinks. Followed by several more.
The next day we toured the Okanagan wine country. It's all about supporting local right? So we left with several to go bottles of wine and it was off to Sparkling Hill Resort.
My goodness. This place is the epitome of rest and relaxation. You're perched in the mountain top near Vernon, British Columbia. Expansive lake and mountain views delight. The property is clearly well designed so that you can get the maximum appreciation of these views from all angles. We toured the property and were told that robes were in our room. It was highly encouraged to venture all places in our robes and slippers. Even to the restaurant for breakfast (which is included in your stay rate). The only time and place they weren't permitted was in the Peak Fine Restaurant dining room at dinner.
After working tirelessly for so long this was the moment I was waiting for. Hotel Robe on. Slippers on. BC wine country wine...opened. Consumed. Opened. Consumed. Opened.
Sensing a theme here? This is why I had my Ondrej confession above.
The resort is home to Kurspa AKA heaven on earth. Access is also all part of your stay. It is Canada's largest spa coming in at 40 000 square feet. You have 7 unique themed steams and saunas. Included. My friend and I bounced around from a soothing rose steam, to an herbal sauna to the highly innovative and refreshing Igloo room. When we just wanted to sit in serene silence...there was literally a room for that. No talking in the serenity room. When we wanted to reminisce over our excitement of the steams and saunas we enjoyed a tea in the tea room, quietly chatting in hushed voices. We both got massages. Obviously this is extra, but a spacation isn't complete without a massage. After making my body work so hard for so long it was so wonderful to indulge in this treat. Then of course there were the themed showers. My favourites were the tropical and the fresh showers. The tropical was a lemon scented...yes a SCENTED shower...with the perfect warm temperature and the sounds of the jungle. The fresh was a cooler mist shower with an invigorating pine scent all topped off with the sounds of the rainforest.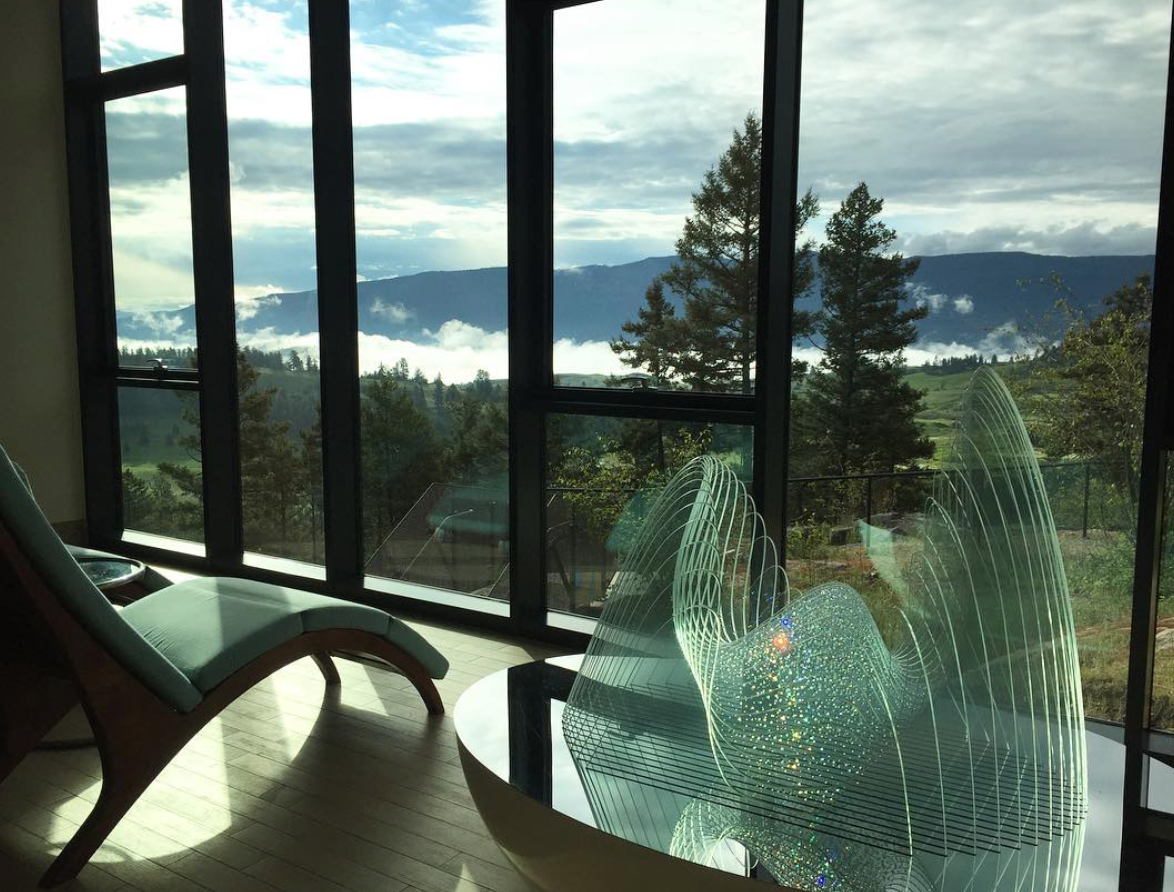 Kurspa was home to an equipped gym facility. I went each day of our stay in the morning. It would have been really easy to stay curled up in the most comfortable hotel bed I've ever slept in. However, I knew it was a slippery slope if I let my guard down on that element of my routine.
The stay cost both of us a pretty penny. However, if you have some extra splurge income floating around I would recommend Sparkling Hill Resort over and over again. We stayed 2 nights and we both agreed it felt like we had been away for a week or longer. In the best way possible. Their main goal is for you to check in, truly unwind and focus on your health. Mission accomplished.
When I returned to my home I was actually moving to a new condo the very next day. Talk about jumping right back into life. I was honestly so happy to reunite with my kitchen. At this point I was just craving 100 percent clean eats. As soon as I moved the next day I did a shop and ample meal prep. I was planning on starting my lean bulking off season meal plan. I lasted a day. So many carbs are in this plan as obviously the aim is to lift heavy and to build muscle. I was so bloated from our wine country escapades I just couldn't stomach it. So I made the executive decision to go on one of my fat cut meal plans from the early days of prep. Can you believe it? That is what I was craving. I've been doing this for a week now and I feel so much better.
The biggest thing I've learned when it comes to nutrition is that a lot of foods actually put my stomach in physical pain. Sometimes it is even prolonged. Especially if its dairy. Clearly I'm not tolerant. I didn't eat cheese for 3 months when I was on prep. As I move forward although I now get two cheat meals technically a week on this new plan. I don't think I'll indulge in that item, which I loved so much.
Overall I'm happy that for the most part I've stayed on track. My gym routine hasn't wavered. My diet overall is something I'm pretty happy with. There have been some off track days and the wine did not help. However, my mindset is in the right place. Even with the two cheat days that I'm allotted in my plan going forward I don't think I'll necessarily do them because they are there. It is not something I'm going to schedule. When I feel like something...then I'll have it.
I'll be doing lean bulking for three months with the guidance of course of Ondrej and Andrea. I'm excited for this next chapter in my year of competing. Now that I have one competition behind me...I can't wait to see what I bring to the stage looking forward.