Training While Traveling - Direct Flight to Temptation
For some reason that I can only believe to be a complete lapse in judgement on my part, I started my 12 week journey exactly 2 days before 2 solid weeks of work travel.
For some this may have been a non issue. The 12 week prep time for others could be classified as generous. However, for myself this was not the case. I needed every single week, workout and scheduled meal plan to get me to that stage on May 6th.
I'll tell you a little bit about my initial travel experience while training. Then I'll give you some advice based on what I've learned.
I met my Coach Ondrej on the Wednesday prior to departure for the first time. I jokingly laughed saying this is going to be a tough one. I don't even get to be in charge of where I get to eat on these work trips. He had a straight face. No excuses. One thing I've learned...if you want to work at something and achieve your goal this is the law you have to abide by.
I was spending the next two weeks in two very different climates. The first week was a work shoot in Orlando, Florida and for the second I was traveling to the Yukon. This would be my third time on the Orlando assignment. I knew from experience that this work trip would mean interviewing some renowned chefs and visiting phenomenal eateries. Great...
Sidenote: If you only associate Orlando with typical amusement park fare...you are missing out. Their dining scene has positively exploded over the last couple of years and has attracted some incredible talent.
Hence my nervousness going into this thing. I like to eat all of the things...all of the perfectly executed delicious things...
My first step prior to the trip was looking at my work schedule. I knew that I would be doing early AM live national broadcasts followed by some solid hours of shooting. I looked at all the gaps in my schedule and before I even hopped on that plane...I knew that those were to be allotted to my cardio and weight training.
I then researched my hotel. This is where I lucked out big time. I stayed at the Hyatt Regency Grand Cypress and their gym was beyond impressive.
On top of that their room service menu had an option that perfectly matched one of my routine meals for my fat cut.
Here is the thing. Eating well is always a viable option if you investigate hard enough. The difficult part was not giving in to temptation. My entire time in Orlando I was tempted to sun lounge on bright beautiful days. Instead I was hustling in the gym. Then there were the cooking demos. On top of that you're surrounded by people saying...one meal won't kill you. (Yes that is all well and good, but it could kill what the entire point of my earlier workout.) I was placed in multiple situations where eating the amazing delicious food was the easy option. However, I knew I would be sacrificing the end goal.
Is any meal worth that when you have your mind set on something? No seriously I'm asking...this all looked amazing. haha My crew reaped the benefits big time. Kudos to them as they were very supportive in my plight.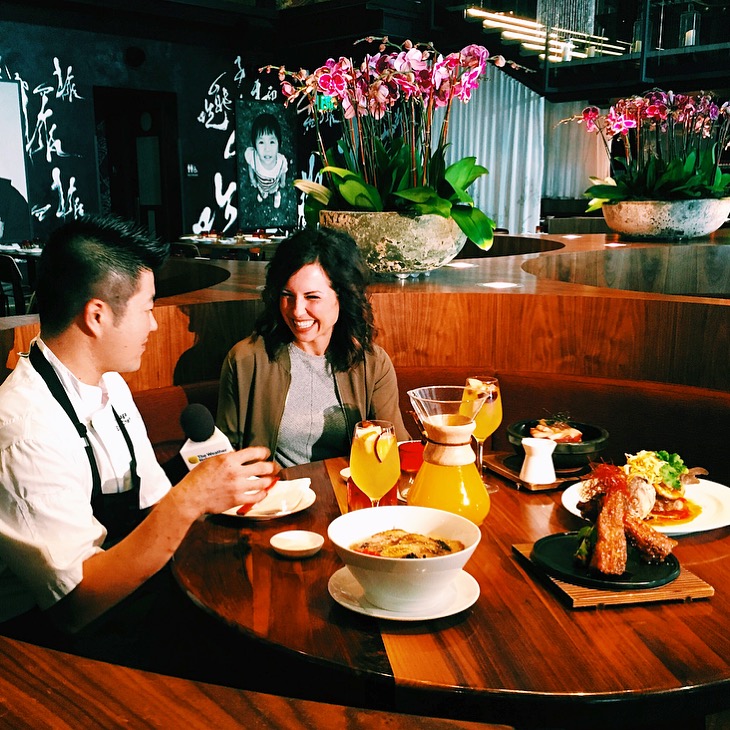 So I survived week one without to much incident. Then I came home for a brief 12 hour stint before boarding an Air North flight to Whitehorse, Yukon. Yep...you bet that was a 42 degree temperature difference in less than 24 hours.
The Yukon is where this whole fitness thing got a lot more difficult. Our shoot consisted of a couple towns with populations under 500. Our one meal stop was in a "grocery store" while we were on the road as a grab and go. If you've ever been on a fat cut you know that your options are already limited. I was pretty stressed out at times over the whole situation. I knew some days I wasn't eating enough based on my workout routine. Then on others I knew that I had over indulged when meal time happened. The Yukon had some delightful dining options. Then there was the alcohol that is often readily available on these trips. Aside from a few glasses of wine I was really well behaved. The only liquor that I did consume was necessary. Yes I said necessary. It was for the Sourtoe cocktail. Yes it is a shot with a real mummified human toe in it that must touch your lips. It's a Yukon must-do.
We traveled from Whitehorse to Dawson City. The hotel didn't have a gym facility. In fact the front desk said they had never ever been asked if there was one around...ever. She was so kind (as everyone in the Yukon was) and looked up my best option. It was at a community centre a couple blocks in the town. So in the middle of my work day I scrambled to get there during their limited hours to purchase a $5 guest pass. This gave me a code to unlock the community centre. The next morning I trekked out for my workout. It was -30. For the record my hair does not have white highlights...it was frozen en route to the gym.
Upon my return 2 weeks of prep had already flown by. I had mixed feelings over my performance. I didn't miss a scheduled workout, however I was far from following the diet set for me in its entirety. I didn't have my supplements organized.
Now that I've had 2 weeks following the trips of my proper fat cut the difference is unbelievable. I have more energy and I'm seeing massive improvements in my body. After my first 2 weeks I started to feel anxious that May 6th was a way to ambitious goal to compete. Now I'm feeling as though nothing can stop me from hitting that stage and that I'll know I've given it everything I've got.
Traveling for work or going on a trip? Here is my best advice for you:
Tell - Tell your travel buddies your restrictions and workout plans before you go. If they are informed of your goals ahead of time you won't have to deal with people trying to discourage you from your gym time. It will also be easier to work with your travel buddies when it comes to choosing dining options that will have flexibility for your meal plan.
Research- Most hotels and accommodation have websites. Google is your best friend when it comes to scoping out if you hotel even has a gym. If not then google your options in the vicinity. Most fitness facilities will have day pass options for you. Remember it may not be entirely convenient, but your prep doesn't get a chance to take a vacation. If you wan't to make sure you're hitting your goals you'll find a way to make it happen.
Inspiration- Follow those that inspire your workout goals. Remember to keep your sources of 'Fitspiration' nearby so that you don't lose sight of your end goal in moments of temptation. Fitness requires building your strength physically, but a massive part is a mental game. Remember you've got this!
Preparation- Make sure that you're organized ahead of your trip with any supplements that you'll need. I find most stores have sample packs that they'll offer up when you're making a purchase. I save all my sample protein pouches, BCAA's etc. Then when I travel it makes it really easy to pack. I also have a Popeyes supplement organizer. It makes me look like a granny with a million pills all organized by time of day...however since this venture its made work traveling a lot easier.