8 Weeks Out-The Cleanest "Dirty 30"
Dirty 30.
This is the name we give to the celebration of entering our third decade. The connotation is that we are supposed to get completely annihilated similarly to how many a 19th birthday has been rung in. Personally I think we are highly underestimating the power of a 30-year-old hangover. Unlike a fine wine, those do not get better with age.
Being 8 weeks out and well into my bikini competition prep- a weekend of crazy drinking was completely out of the question for the big birthday. To be quite honest it also didn't appeal to me. A weekend of highly indulgent food and over the top decadent cake- also out. If we're keeping the honesty parade going-that would have peaked my interest.
Living in British Columbia there are a vast array of staycation options in the province. Since moving west I have completely fallen in love with the lifestyle and the landscape. I feel very lucky that through my work I've done more exploring in my short 1.5 years here than some have done in their BC lifetime. One of the destinations I hadn't had the chance to experience yet was the Gulf Islands. So through a recommendation of a friend I booked a getaway at Woods on Pender on Pender Island.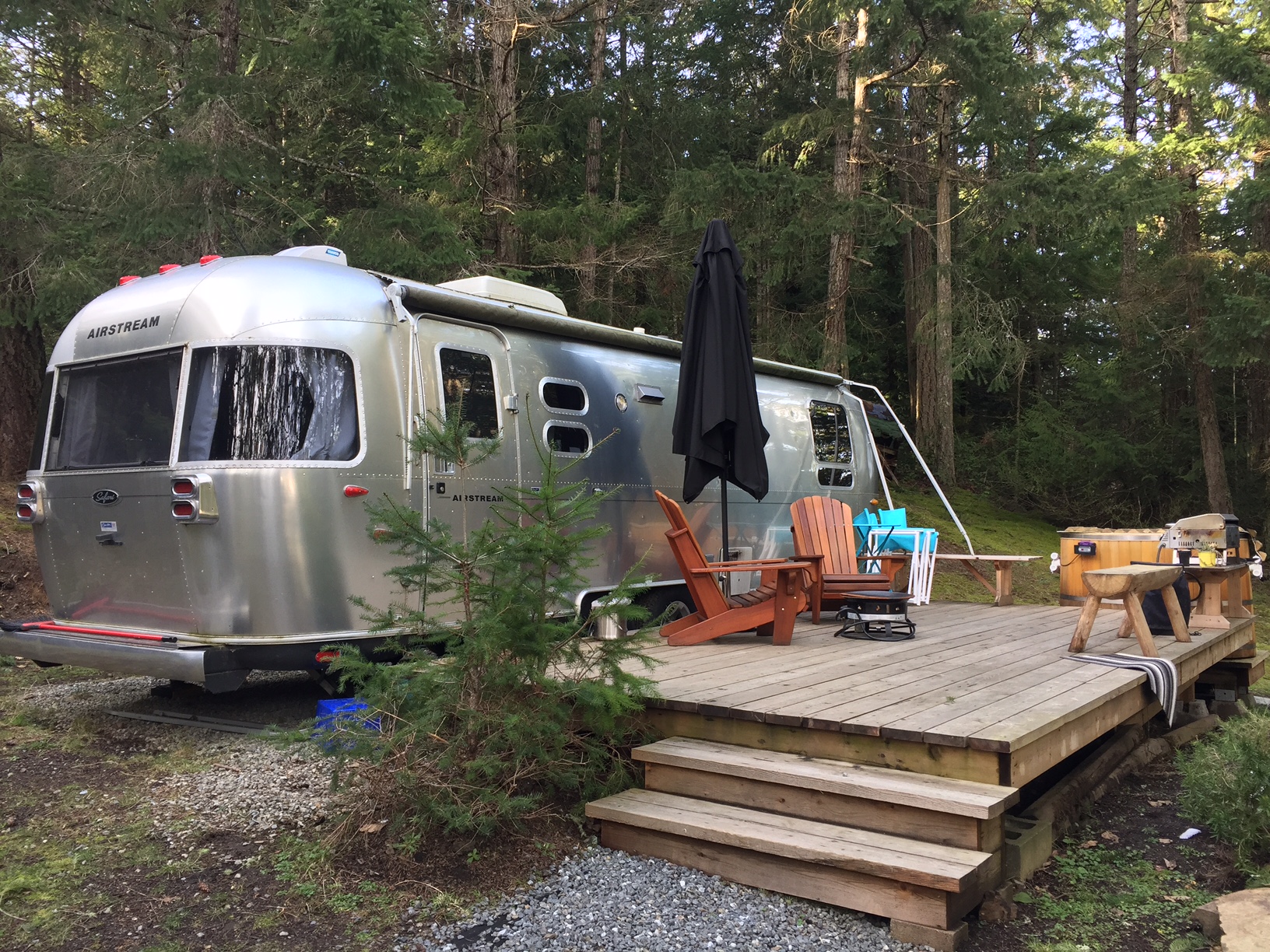 My husband, my dog Stella (AKA my best friend) and myself hopped on an early AM ferry on the Friday and started our adventure. The ride was stunning as we stopped at various Gulf Islands before it was our turn to disembark. I'll never get over the fact that a viable vacation option for me as a resident in Vancouver is hopping on a boat and sailing in the Pacific where the whales roam (which we saw) and enchanting forests tower out of the ocean.
This trip was really different from the camping ventures of last summer however. I had a full cooler in the trunk stocked up with ample amounts of pre-portioned extra lean turkey, green beans and the occasional ¼ cup of quinoa. I had supplements all organized by time of day and to be honest at this point I'm surprised I don't cough powder.
We arrived at Woods on Pender. A rustic cabin awaited us equipped with a romantic cozy fireplace. The extra bit of luxury at this particular glamping getaway was the fact that our cabin had its own private hot tub. Or so we thought. Turns out a chemical imbalance meant our tub had just been drained that day and was only up to 55 degrees…it was going to essentially take our 2 night stay for it to heat up.
How did I feel about this?
My muscles have been sore since January. I literally have been tearing my muscles apart and my body has been welding them back together stronger and stronger consistently for 5 weeks. Not having a hot tub-which really separated this from just being a cabin in the woods in the middle of winter-was not an option. Luckily the resort was not at capacity and the owner worked on finding the best solution possible. He let us use another sites hot tub that was so private and secluded in the forest. It also was on one of the lots of their super funky retro renovated airstream trailers.
I have to say after giving my prep everything I've got day in day out…each moment of each day…it was heavenly just relaxing in the middle of nature. Pender Island had this wild magic. Salty air from the sea and that dewy smell of a rain saturated forest.
The perks of staying at Woods on Pender was the onsite restaurant. Now even though I'm already a journalist I've now found myself taking on the role of investigative journalist with a speciality in menu analysis.
If I'm going out to eat I like to research my best options well beforehand. Woods Restaurant and Kitchen did not disappoint nor lure me to far from my meal plan. The majority of their ingredients were proudly sourced locally…and I truly think it's a fine art when you can actually taste passion in your food. I had two of my favourite dinners over the course of the several weeks I've been on prep. I honestly forgot what flavour tasted like. I opted for a Vegan dinner the first night- which essentially consisted of incredible fresh veggies and chickpeas. The second I went for the steak with vegetables. No major casualties to my mealplan.
The one thing that got me was dessert. Night one. I ate it…I shared it...but I ate it. First of all-if this was my one mega cheat-well it was phenomenal so at least it didn't disappoint. Psychologically I took a bit of a hit. It was the after. I felt quite full. I hadn't had that feeling in a while. Don't get me wrong, I don't walk around in endless states of hangry starvation. However, I eat the right size portions with all my food weighed…so I roam around each day feeling satisfied…and then very hungry every 2 hours…but I'm also eating every 2-3 hours. Feeling full felt plain uncomfortable.
It did however help me reflect on how healthy I've been feeling on my nutrition plan. I used to eat until literally my stomach hurt from shovelling the food in. Fullness would come and go…but if it was on the plate I would keep going like a champ. My tummy would be distended in an effort to contain everything I had jammed in there. Not a nice feeling. Its return wasn't welcome.
So on night two on my actual birthday the dessert option came up again. I knew how incredible it had tasted night one. I thought about it…In truth I dare say I almost agonized over the decision. But then I realized…I'm not hungry. Why would I indulge in this for the 10 minute satisfaction in the moment- only to have regrets over my plan for the next several hours to even the entire next day and beyond. So I held strong…maybe I should have put a birthday candle in my steak...
I did get one birthday cake related item with a candle. It was a Buff Bake cookie. It was really good. I took the first bite…heaven. You know what tastes like heaven…sugar. I gave the rest to my husband. Glad I did. Its always important to read the labels…the serving size allocation for protein, carbs, fats and sugar wasn't great, but wasn't to terrifying at first glance. Then you realize the nutrition label serving size was only half the cookie.
Working out while on an island with a tiny population and staying at a glamping resort with no gym seemed like a challenge at first. One thing I've learned…there is always a gym somewhere. I researched and found Pender Island Fitness in their local plaza. I bought a $10 gym pass. It was "rust"ic...but it worked.
All in all it was a successful weekend. I got my workouts in. I ate very close to my nutrition plan. It was a clean dirty thirty and I have no regrets.
I am starting to get painfully aware that competition time is closing in on me really quickly. Mentally I have to be careful when I consume social media at this point. I follow so many women and men who are truly inspirational in the fitness arena. However, I find myself getting stuck when I see a photo of someone 8 weeks out who is seemingly way more lean than I am. I have to remember that I'm doing this for me. That being said, it is in my spirit though to give it everything I have. It is called a competition after all- You go into it with the goal of taking the win.
I've got My Trainer 365 on my side. Ondrej and Andrea not only live and breathe what they preach, but they also have guided many people to fantastic results. I've got full trust in the process. I know I'm going to give it everything I've got!